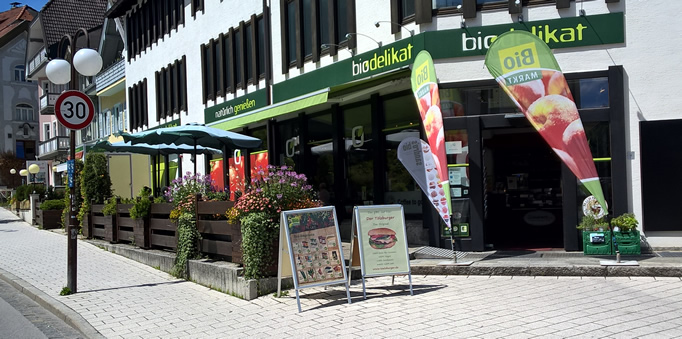 Click here for the official website: www.biodelikat.de
"Unique atmosphere, diverse, exquisite product range"
Dear organic enthusiasts, dear guests!
Who we are?
We are an owner-managed organic market called "Biodelikat" in the heart (old town) of Bad Tölz, founded in 2010. On 235 sqm of shop space with charming interior design, we present an extensive full range of over 4,500 organic products (organic food), natural drugstore goods and natural cosmetics items.
When are we available for you?
Our opening hours: Monday – Friday 8am – 7pm, Saturday 9am – 3pm
Where to find us?
Badstraße / corner Angerstraße
Which organic product ranges can we offer you?
Organic bread & bakery products (yeast breads, sourdough breads, wholemeal breads, mixed breads, toast, sprouted breads, white breads, baguettes, cakes, croissants, puff pastry pockets, coffee to go, homemade quiches, homemade veggie burgers).
Organic fruit & vegetables, fresh daily
Organic drinks (beer, juices, spritzers, water, lemonades, …)
Organic wine & spirits
Organic baking ingredients (ground nuts, yeast, cocoa powder, coconut, marzipan, flours, sweeteners)
Organic spreads (savoury spreads, fruit spreads, jams, marmalades, honey, nut purees, chocolate and nut creams)
Organic broths (vegetable broth, chicken broth, beef broth)
Organic cereals (flakes, crunchy cereals, mueslis, breakfast porridges)
Organic vinegar & organic oils
Organic canned vegetables (beetroot, gherkins, peas, cornichons, chickpeas, kidney beans, various beans, red cabbage, sauerkraut, sweet corn, mushrooms, …)
Organic fruit preserves (apple puree, apple pulp, apple-apricot pulp, apple-banana pulp, apple-pear pulp, apple-mango pulp, apple-blueberry pulp, coconut milk, …)
Organic preserves with ready meals
>
Organic cereals, organic oilseeds & organic pseudo cereals (such as quinoa, amaranth, linseed, …)
Organic hot drinks (espresso, coffee, cereal coffee, cocoa powder, tea)
Organic nibbles (crisps, crackers, savoury bakery products, rice/corn/spelt wafers, candied fruit, nut and fruit mix, spiced nuts, nuts and seeds, dried fruit)
Organic crispbread & organic sliced bread packaged
Organic mayonnaise & organic remoulade
Organic milk substitute drinks (oat drink, rice drink, almond drink, …)
Organic dairy products (butter, yoghurt, coffee cream, milk, sliced cheese, hard and soft cheese, quark, sweet and sour cream, fresh creams)
Organic pasta (spelt, wheat, kamut, wholemeal, gluten-free)
Organic rice and pulses (parboiled rice, brown rice, basmati rice, rice pudding, lentils, peas, …)
Organic salt & organic spices
Organic mustard
Organic sweets & organic biscuits (fruit and nut bars, wafers and biscuits, jelly bears, chocolates, chocolate lentils)
Organic frozen food (pizzas, tarte flambée, lasagne, potato products, frozen vegetables, ready meals, ice cream, fish, herbs, soup chicken, minced meat)
Organic tofu, organic seitan and organic soya
Organic tomato products (tomato sauces, ketchup, tomato paste, dried tomatoes, tomato passata, tomatoes in fine pieces, …)
Organic sachet soups
Organic antipasti & organic pestos
Organic roast and pan-fried dishes
Organic eggs
Packed organic meat (steak, fillet, goulash, beef, poultry, pork)
Organic packaged sausage (sausage in a jar, sausage in a skin)
Organic cheese counter and organic sausage counter (ham, salami, sliced sausage, sausages, olives, cream cheese, feta, soft cheese, sliced cheese, hard cheese, sheep and goat cheese)
Natural drugstore products (detergents, cleaning products)
Natural cosmetics (hair care, facial care, body care, soaps, hygiene products, essential oils, vegetable hair dyes)
Organic baby food & baby care products
Organic pet food (dog food, cat food)
Bistro service
Daily (Monday – Friday) 1 dish of the day (almost always vegetarian, often vegan), if desired with mixed side salad
Homemade quiches
Homemade veggie burger (Tölzburger)
Fine cakes (some homemade)
Fine pastries (croissants, puff pastries)
Fine pastries (Nussecken, Florentines, Baumkuchen, Pigs' Ears, also vegan pastries)
Coffee specialities from the Murnauer Kaffeerösterei (espresso, espresso macchiato, coffee crema, cappuccino, latte macchiato, milk coffee)
Various teas (black tea, green tea, herbal tea, fruit tea)
Hot chocolate
Freshly mixed smoothies
Homemade vitamin cocktail
Our brands: Rapunzel, Zwergenwiese, Holle, La Selva, Andechser, Berchtesgadener Land, Provamel, Natumi, Allos, Rosengarten, Voelkel, Beutelsbacher, Riedenburger, Lammsbräu, Plose, Lauretana, Dr. Hauschka, Weleda, lavera, Logona, Martina Gebhardt, Santaverde, Primavera and many more